Indians, Members of Parliament and Education
Narrative Cartography by
Sudev Kiyada and Kirti Vardhan Rathore
Guided by: Sridhar Pabbishetty, Prasanta K. Dutta
"India a country where 140 out of 625 candidates contesting assembly
elections are only educated till class 8th."
If these candidates win it will be a dire state of India that still goes under the tag of a 'developing nation'. These statistics are from phase 1 of 2022 UP Elections. We don't even know what the state of other states is.

However, that India has had seen well educated and erudite political leaders who created a unique and resilient set of democratic institutions that have strengthened over time. And yet, more recent endorsements have yielded a large number of poorly educated candidates; that includes an uneducated Chief Minister, an uneducated dacoit MP and even MPs and MLAs who couldn't even read their respective oaths.

All this was supposed to change after the advent of a political party started by an IITian. There have been a lot of debates on how educated political candidates can bring a change in the Indian politics. It has been almost 10 years, since this IITian came into picture as a politician, and they have been ruling in the national capital of India and in some of the state elections they are faring slightly better than one of the 'dynastic' party of our country.

In India, you need to be at least a 10th pass to even apply for a peon's job in the government. Curiously enough, there's no such educational stipulation to become a Mantri. So, we want to put a data backed narrative on how our wannabe Mantri's are exploiting this lack of qualification to rise up the rungs of Indian Politics.
What India thinks?
We conducted a survey about the perception of citizens toward the educational qualifications of Members of Parliament in Power. We received a total of 105 responses and these are the findings:
Summarizing finding, x% of the respondants believed that more that 50% of our MPs are illiterate and only x% believe that more than x% have atleast a graduate degree.

To be very honest, we to believed the same.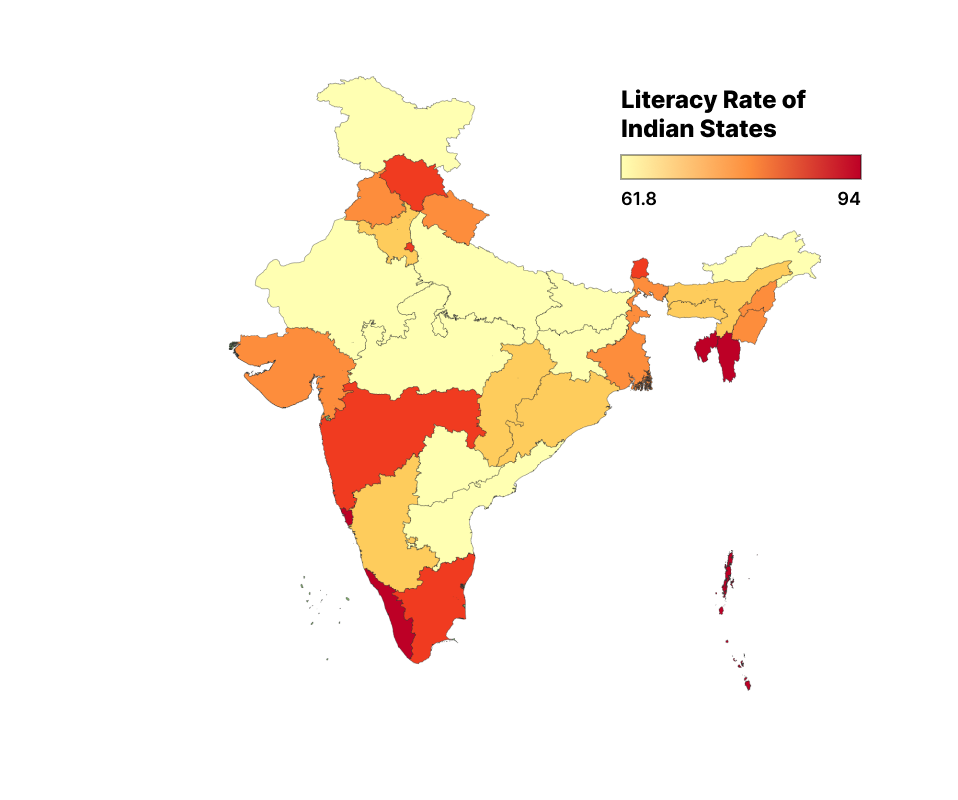 Raw Data
The data of Lok Sabha elections of 2009, 2014 and 2019 was taken from https://myneta.info/. The data included Participating Candidates, Parties of Participating Candidates, Constituency, Winning Candidate and Educational Levels.

myneta organises Educational Qualification across 10 levels; Illiterate, Literate, 5th Pass, 8th Pass, 10th Pass, 12th Pass, Graduate, Graduate Professional, Post Graduate and Doctorate. There are also some candidates with 'Not Given' and 'Others' also as Educational Qualification but since their number is extremely low, they are ignored.

The Data included 25,000+ Candidates, 680+ Political Parties and 543 Constituencies spread over 3 lok sabha elections.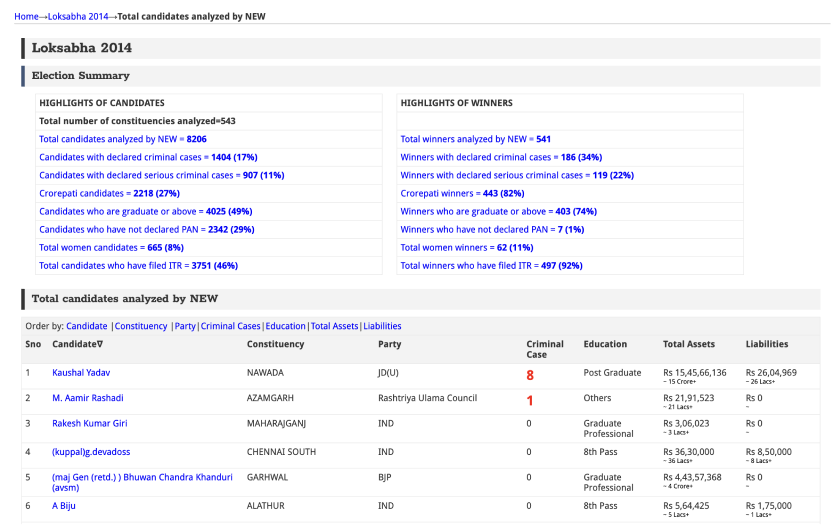 Processed Data
The Data was processed in Microsoft Excel using Pivot Table and vlookup. The Additional column of State was added, and prelimnary refining was done. We also tried to determine that wheather in a particular constituency the Candidate with Highest Educational Qualification win or lose.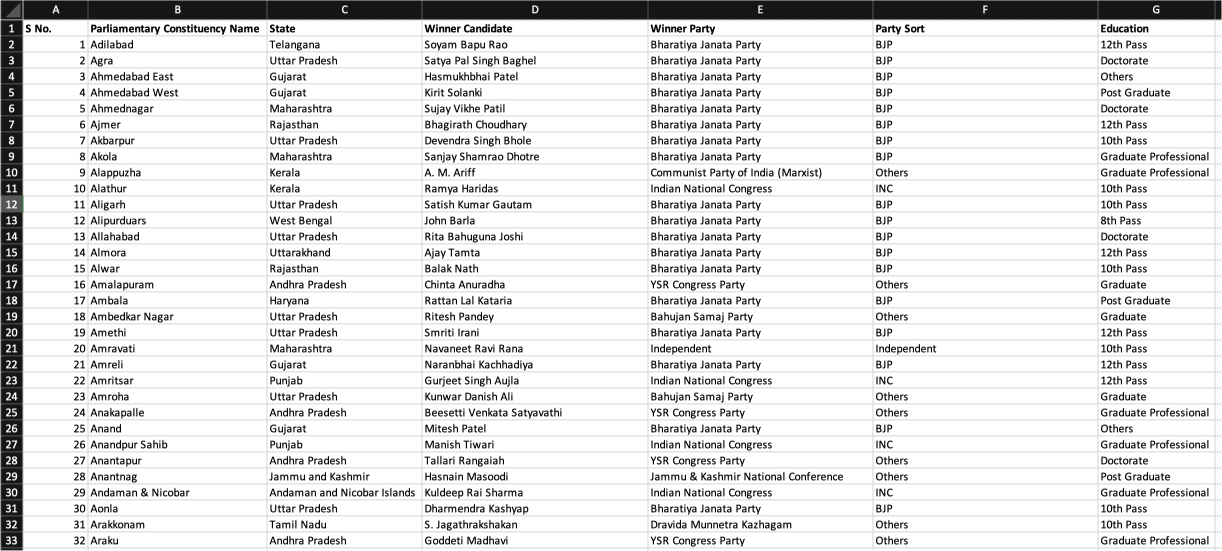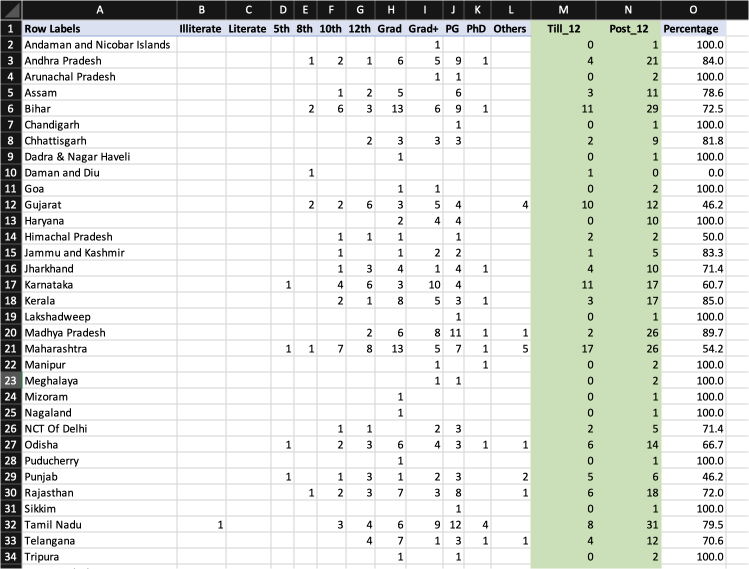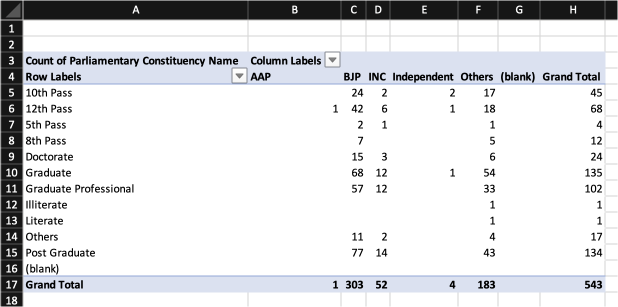 Questions
Assumptions, like our survey respondants we were also looking forward to find a good number of illiterate MPs. Along side that when we started we were trying to answer the following questions:

Which amongst the major parties values education while giving away tickets to contest elections?

Which state/region sees what number of Educated candidates and at what levels of Education?

How did these educated candidates fared against the not so educated candidates if any?

How does the percentage of educated candidates and winning candidates wary?

How does the percentages vary pre and post AAP era?
What Data Says!
With all the data in place lets head out and see what data has to say about the educational level of MPs and MP Candidates. We see party wise and state wise results.

There are no Illiterate MPs in INDIA!
The Citizens Role
Since there are no illiterate MPs in the Parliament, we can do away with the debate of literacy. What we further do is divide the 10 Educational Levels in just two levels. Elementary Educated : Till 12th Pass Highly Educated : Graduate and Above Because a Grduation degree plays a pivotal role in persons life and empowers him in a lot many ways, so it was chosen as the pivot. We plotted percentage of Highly Educated Candidates on the Map of India with a diverging color scale. Red shows more number of Elementary Educated Candidates, White Shows the mid point; equal number of both and Green shows a higher number of Highly Educated Candidates.

This is how the map looks...Hover over the maps to see what Indian Citizens choose.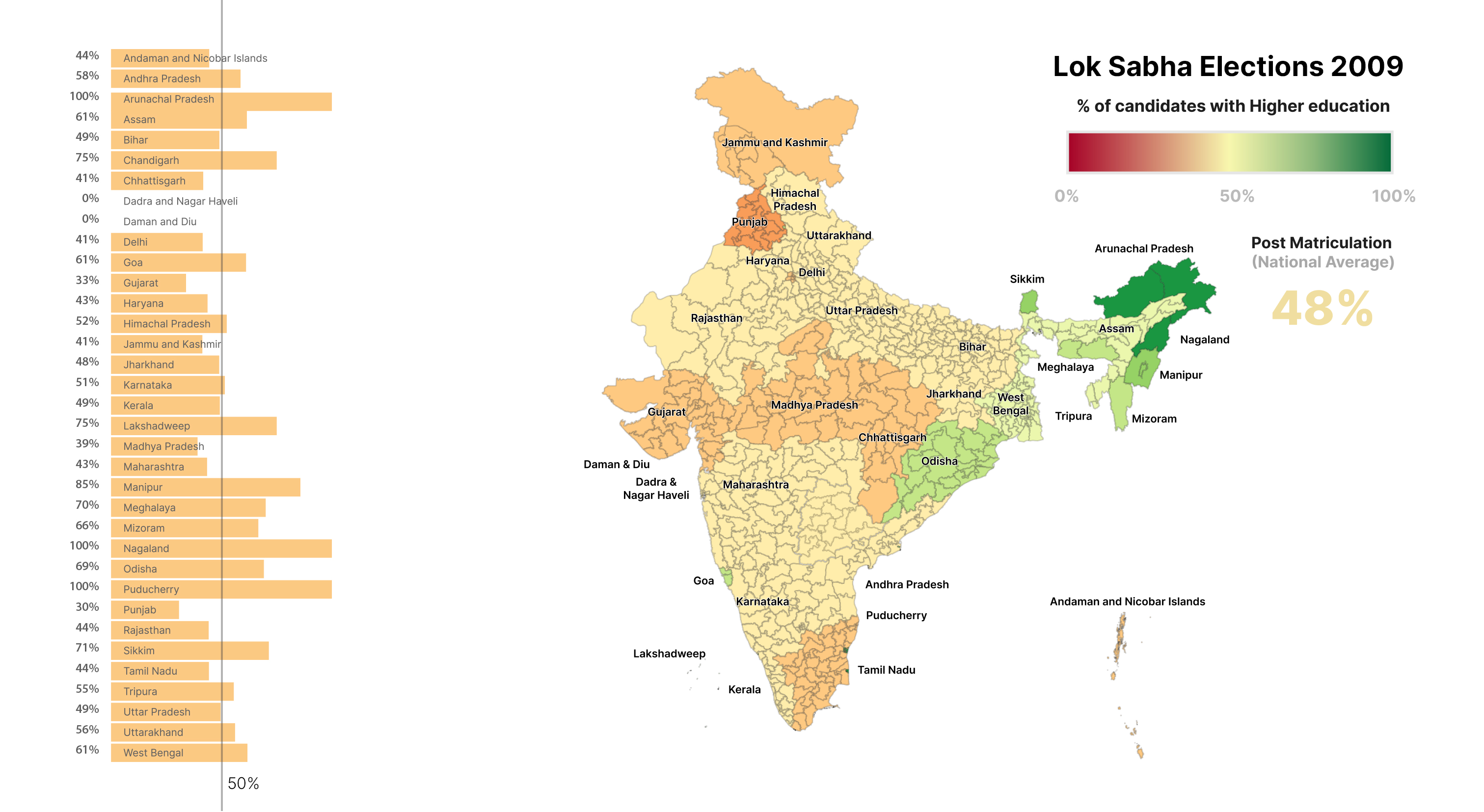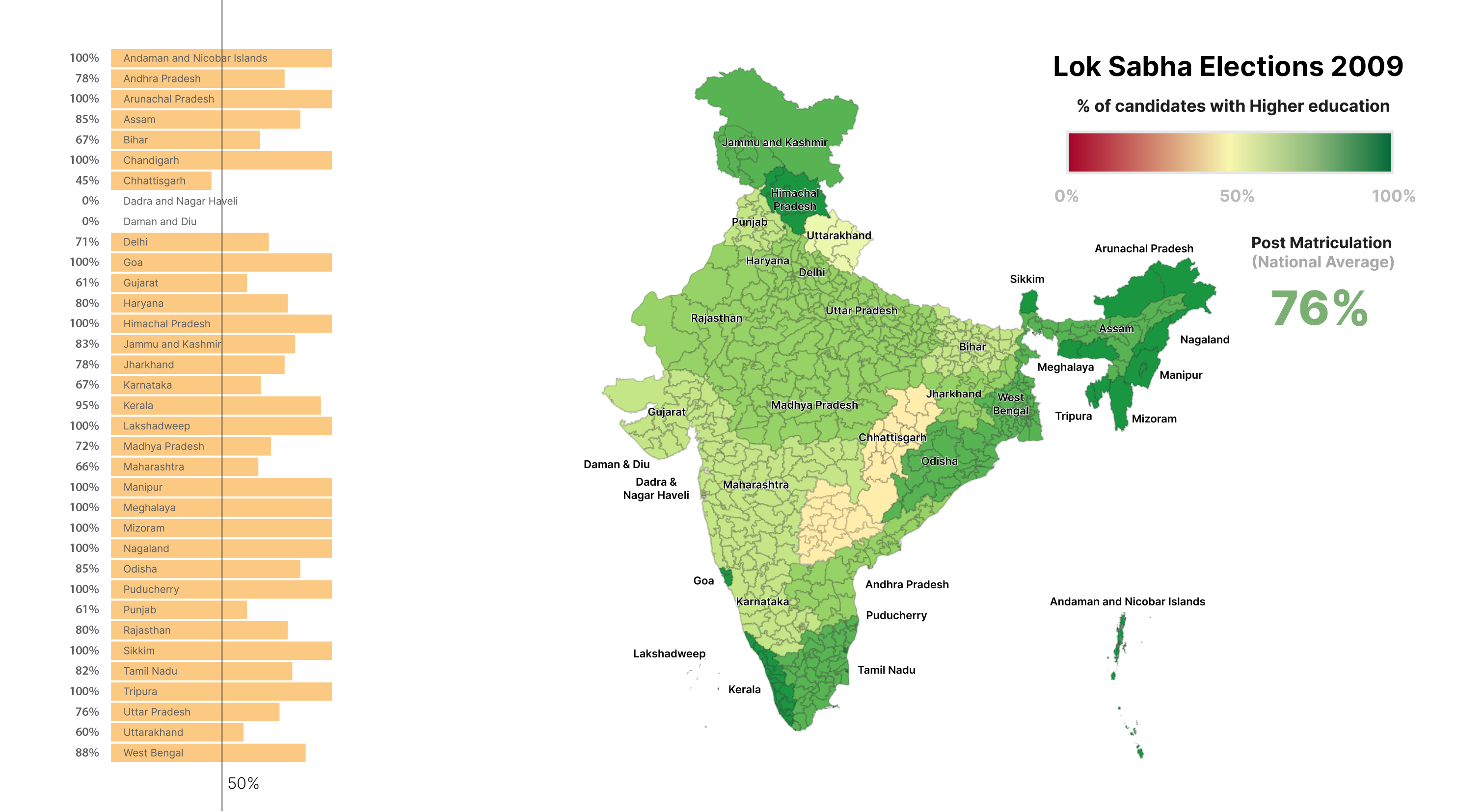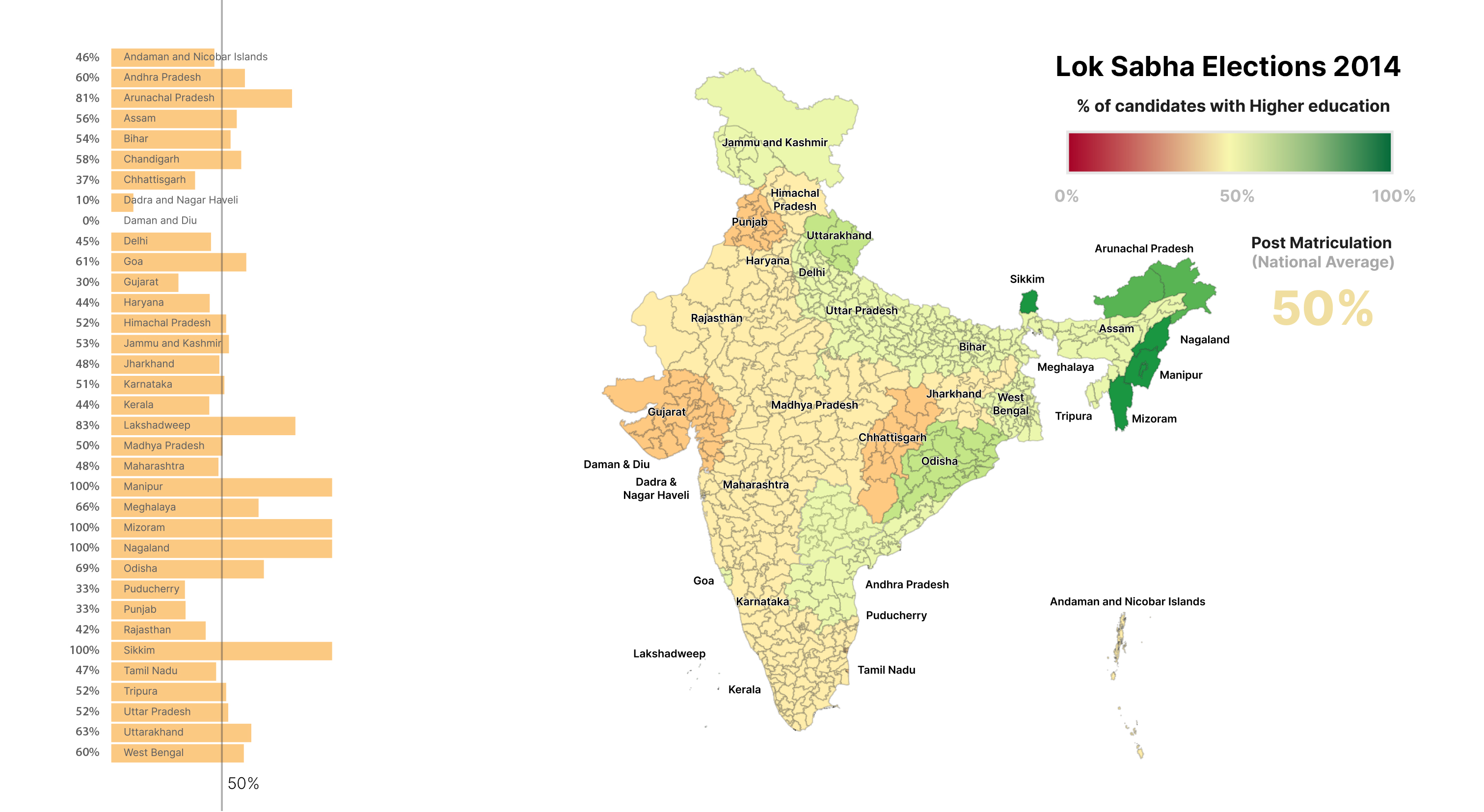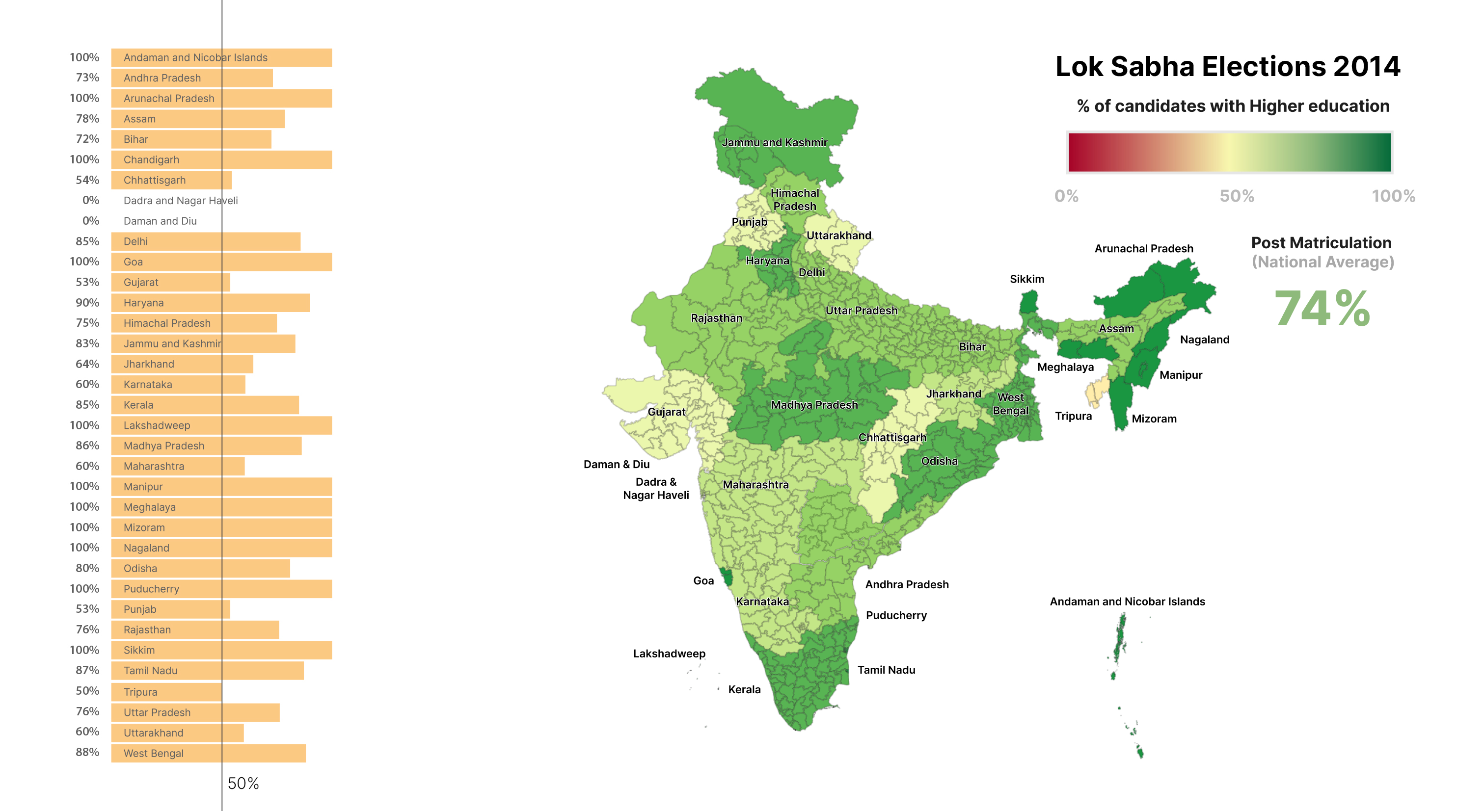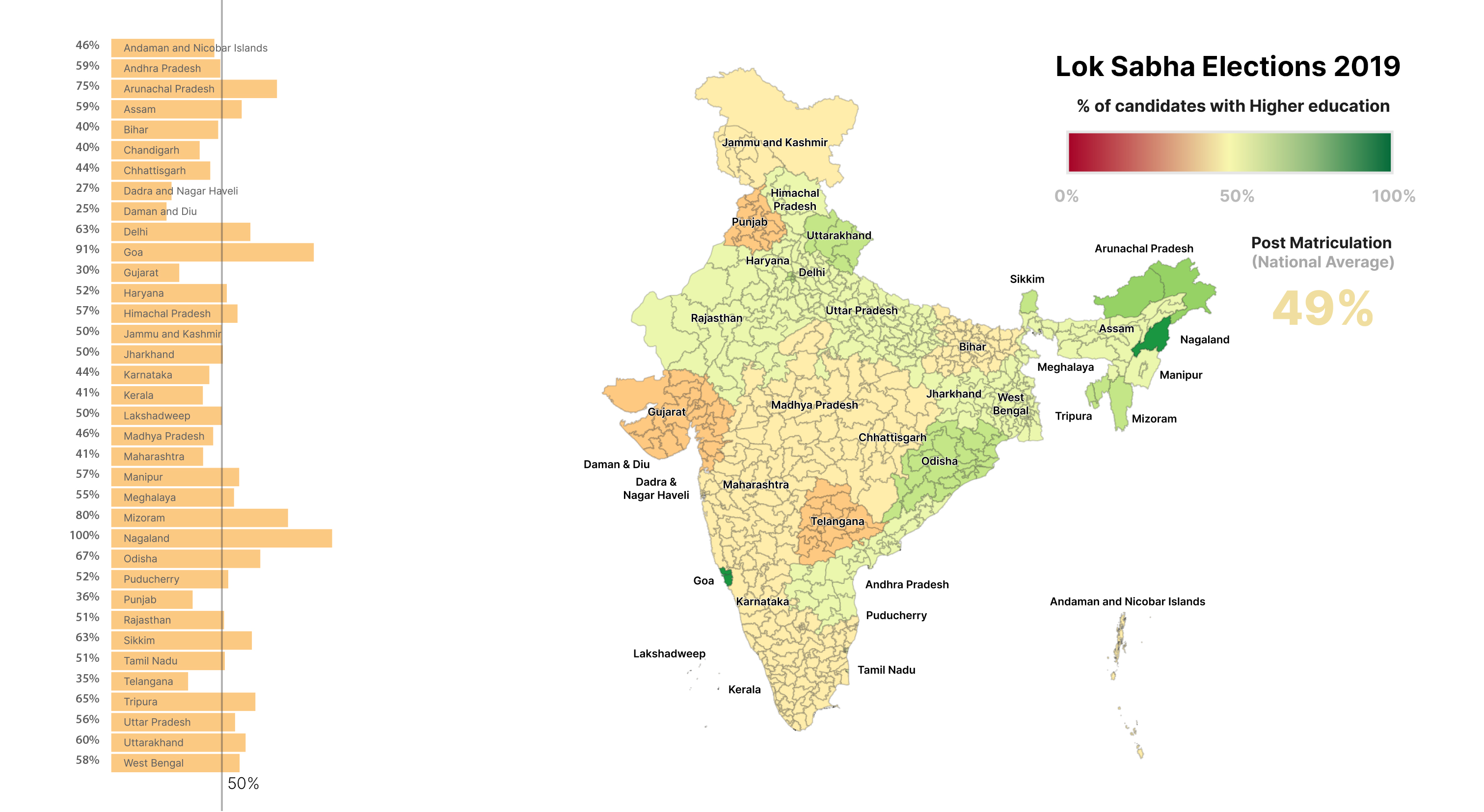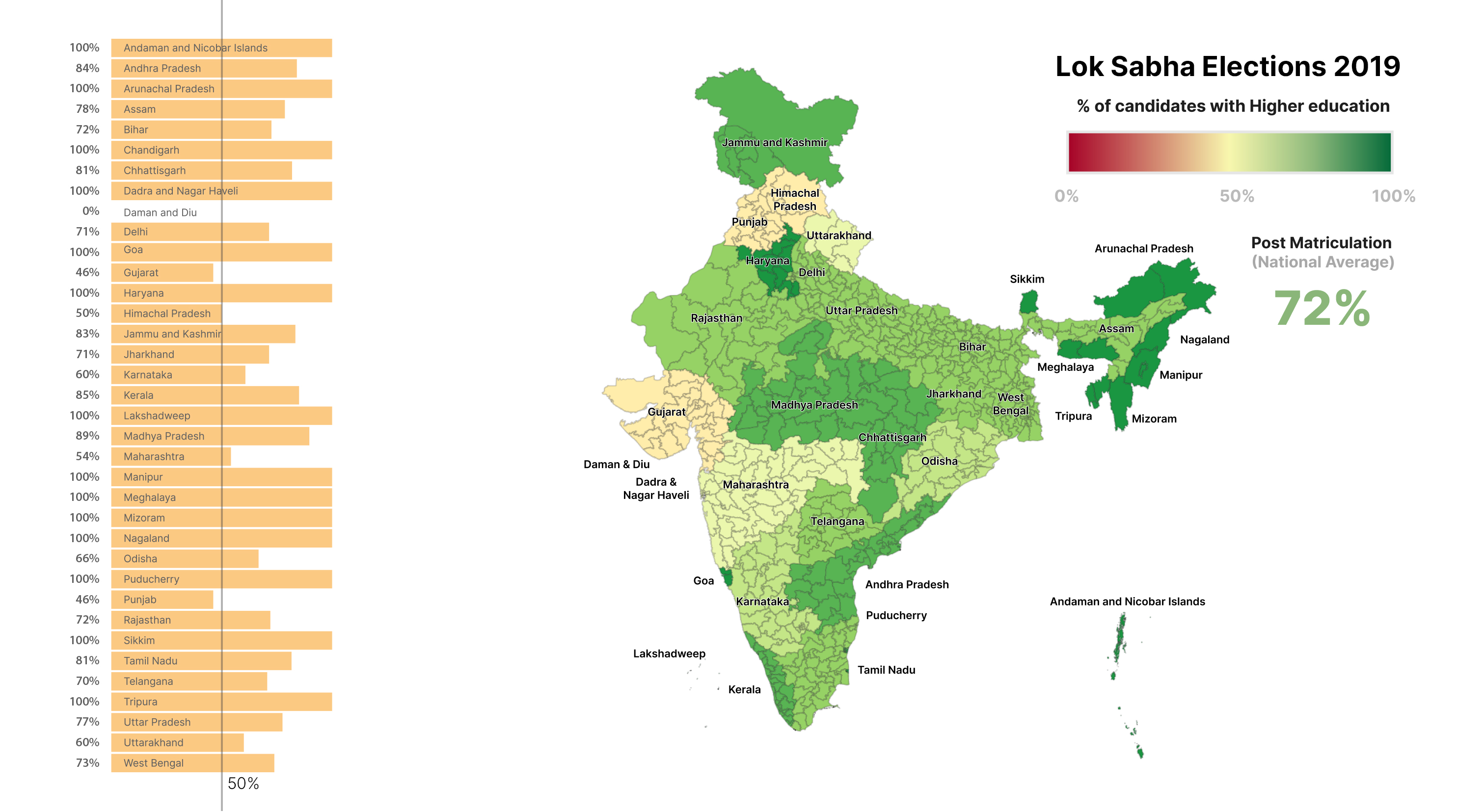 Conclusion
It is pretty clear from the above Chloropleths that most of the States are offered an almost equal mix of Highly Educated and Elementary Educated candidates but once they pass the test of Public, the mix has a higher number of Highly Educated Ones.

Illustrating the same using a buble chart.
"Remember: things can be bad, and getting better."
~ Hans Rosling
P.S. : Just 4 of those 140 8th Pass Candidates ultimately won the elections.